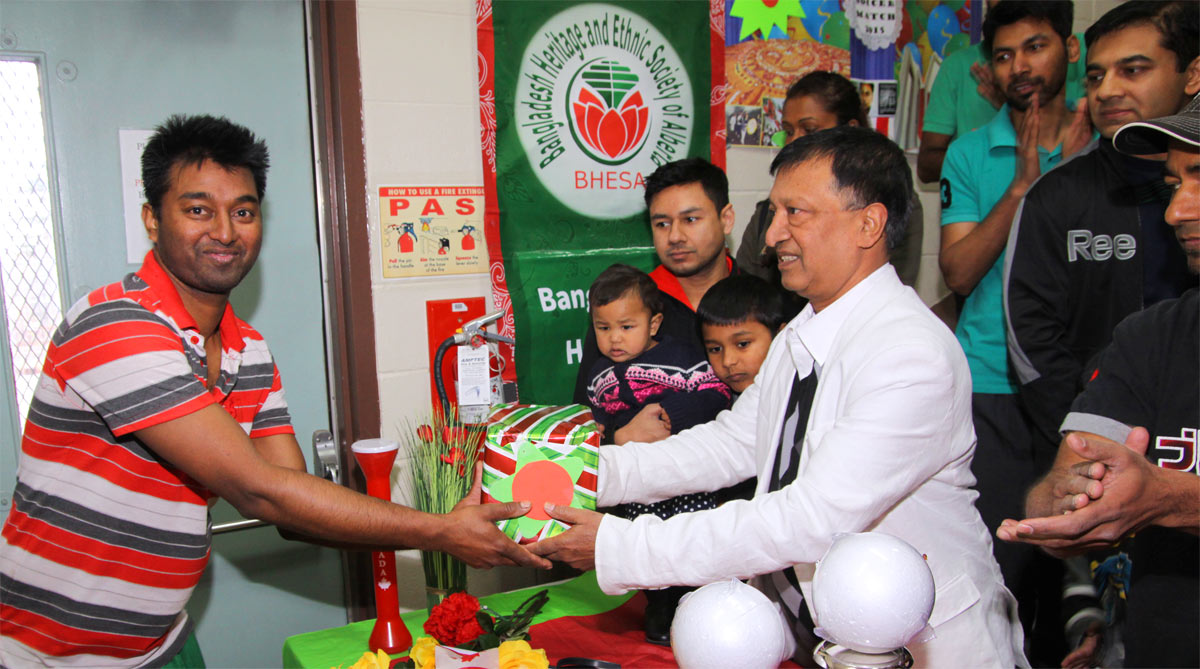 Edmonton, Canada (April 12, 2015): Mahinur Jahid Memorial Soccer Match was held at the premises of  Alex Taylor School (E4C) in the Edmonton City of Canada on Sunday, the 12th of April, 2015 . Edmonton Lathials (Tanvir, Khademul, Masud, Shan) takes home the championship title while Edmonton Jomidars (Rusel, Rocky, Tajul, Mizan) group become Runners-up and other Edmonton Jodhas group players were Roney, Anis, Robin, Sabree, Mirza Bashir and Nigar.Prior to inauguration, Ahsan Ullah introduced all the players to the chief guest Delwar Jahid, President of Bangladesh PressClub of Alberta.
Speaking in his address Delwar Jahid said Mahinur Jahid Memorial Sports are organized in Edmonton since last year to help and support the youths to build their future not only obtaining the academic excellence also get physical and mental development through the sports. The team taking part in the sports events were highly appreciated by the chief guest.
After the tournament, Championship and Runners-up trophies were distributed by the chief guest.
The Soccer fans of the Bangladeshi community in Alberta enjoyed the match, the Bangladesh Heritage & Ethnic Society of Alberta (BHESA) assists the Mahinur Jahid Memorial Foundation (MJMF) to organize the colorful Soccer tournament. Ahsan Ullah proposed vote of thanks to the sponsors, players and the community members present. Among others Tomal Islam, Anamur Rahman, Masud Bhuiyan, Nurul Huda, Dollin Islam from BHESA executive members and Andreas Strohkirch were present in the prize distribution ceremony.