Requirements not met
Your browser does not meet the minimum requirements of this website. Though you can continue browsing, some features may not be available to you.

Browser unsupported
Please note that our site has been optimized for a modern browser environment. You are using »an unsupported or outdated software«. We recommend that you perform a free upgrade to any of the following alternatives:
Using a browser that does not meet the minimum requirements for this site will likely cause portions of the site not to function properly.
Cricket: Australia v Bangladesh World Cup scoreboard
Details
Cricket: Australia v Bangladesh World Cup scoreboard
         PUNE, India, Nov  11, 2023 (BSS/AFP) - Scoreboard in the World Cup match 
between Australia and Bangladesh in Pune on Saturday:
       Bangladesh
       Tanzid Hasan c and b Abbott                          36
       Liton Das c Labuschagne b Zampa                      36
       Najmul Hossain Shanto run out (Labuschagne/Inglis)   45
       Towhid Hridoy c Labuschagne b Stoinis                74
       Mahmudullah run out (Labuschagne)                    32
       Mushfiqur Rahim c Cummins b Zampa                    21
       Mehidy Hasan Miraz c Cummins b Abbott                29
       Nasum Ahmed run out (Abbott)                          7
       Mahedi Hasan not out                                  2
       Taskin Ahmed not out                                  0
       Extras (lb10, nb2, w12)                              24
       Total (8 wkts, 50 overs)                            306
       Did not bat: Mustafizur Rahman
       Fall of wickets: 1-76 (Tanzid), 2-106 (Liton), 3-170 (Najmul), 4-214 
(Mahmudullah), 5-251 (Mushfiqur), 6-286 (Hridoy), 7-303 (Mehidy), 8-304 (Nasum)
       Bowling: Hazlewood 7-1-21-0; Cummins 8-0-56-0 (4w); Abbott 10-0-61-2 (1nb); 
Marsh 4-0-48-0 (1nb, 2w); Zampa 10-0-32-2; Head 6-0-33-0; Stoinis 5-0-45-1 (2w)
       Australia
       T. Head b Taskin                                     10
       D. Warner c Najmul b Mustafizur                      53
       M. Marsh not out                                    177
       S. Smith not out                                     63
       Extras (w4)                                           4
       Total (2 wkts, 44.5 overs)                          307
       Did not bat: M Labuschagne, J Inglis, M Stoinis, S Abbott, P Cummins, A 
Zampa, J Hazlewood
       Fall of wickets: 1-12 (Head), 2-132 (Warner)
       Bowling: Taskin 10-0-61-1 (1w); Mahedi 9-0-38-0 (1w); Nasum 10-0-85-0 (1w); 
Mehidy 6-0-47-0; Mustafizur 9.4-1-76-1 (1w)
       Result: Australia won by eight wickets
       Toss: Australia
       Umpires: Ahsan Raza (PAK) and Marais Erasmus (RSA)
       TV Umpire: Richard Illingworth (ENG)
       Match Referee: Andy Pycroft (ZIM)
New Zealand upbeat to overcome Bangladesh challenge
Details
DHAKA, Sept 20, 2023 (BSS) - New Zealand stand in skipper Lockie Ferguson was not aware of his side's dismal ODI record in Bangladesh but admitted that it would be a huge challenging to win a series here.
    The Black Caps haven't won any ODI match in Bangladesh since 2008 and lost seven straight matches. After winning a three-match ODI in 2008 by 2-1, New Zealand suffered a 4-0 defeat in five-match series in 2010 and a 3-0 sweep in 2013.
    Since then, it would be the first ODI series between the two sides on Bangladesh soil.
    "We know how strong Bangladesh are in their home conditions, so it's a good challenge for us against them. And it's my first time playing here, so certainly plenty to learn on my behalf. But the boys are really looking forward to tomorrow and getting underway," Ferguson said.
    Ferguson informed they would lean on their bowling coach Shane Jurgensen, who was also Bangladesh's bowling coach till 2014, to know the strategic point to beat Bangladesh at their own den.
    "I didn't know that (about the dismal record). (But) every series we play, we play to win. As I was saying, Bangladesh is very good in their home conditions and a huge challenge here. The boys are very much prepared to take the series out," Ferguson said.
    "However, we know it starts with the first ball in the first game. So, it's important for us just to focus on what's coming up tomorrow and try to adapt as quickly as possible to the conditions. For some of us, we haven't played here, so we'll have to adapt quicker."
     "Certainly we're leaning on the knowledge of the guys who have been here previously and leaning on Jurgensen about how to play the game and construct our innings with the bat and then try to defend it with the ball. Or vice versa. But yeah, look, it's going to be a great challenge, and hopefully we can do better than what you just said."
    Ferguson revealed that he had made necessary homework to deal with Bangladesh at their own as he found that almost every team struggled here.
    "I have seen some highlights from when England was here and there were a lot of wickets taken by pacers. So, I suppose that's when change-ups tend to come in a bit more. Obviously with it being so humid as well, the ball tends to swing. So, we're sort of known for our swing bowling and I'm sure we'll still be able to use that tomorrow," Ferguson said.
    New Zealand sent only five World Cup-bound players to Bangladesh. Lockie Ferguson leads the side that also includes Trent Boult, Rachin Ravindra, Ish Sodhi and Will Young.
    Ferguson said as an experienced campaigner pace bowler Trent Boult will have to take the bulk of responsibility in the series, which starts tomorrow at Sher-e-Bangla National Cricket Stadium.
    "Clearly a guy with a lot of experience (Boult) and certainly really enjoying him back within the group. Straightaway in England, he came in and he was exceptional. It was challenging to bowl quick. The scores were high in England and his expertise and calmness under pressure was irreplaceable," Ferguson said.
    "So I guess without Tim (Southee) and Matt Henry, Boult's gonna have a bigger leadership role as he always does. But he's certainly a gem for us and I certainly enjoy playing alongside and, you know, I'm sure if it's swinging tomorrow, he's one of the guys who'll get some swing out of it," he added.
    With New Zealand opting to rest some players, Ferguson believes it's the only way to counter the burden of unprecedented workload in the modern cricket.
    "I think it's the nature of international cricket at this stage. You've probably seen throughout the last few years, a lot of rotation around teams just with the amount of cricket we're playing. Some players are choosing to take a rest now, just before the World Cup and some have taken a little bit earlier. So, I think that's great with them," he said.
    He is however excited to lead the side, even though against a side which is almost invincible at home.
    "Obviously a huge honour for myself to be captain and obviously just in an interim sort of position while our other three captains are away but obviously very privileged to be in this role," Ferguson remarked on leading his country for the first time. "As a fast bowler, I guess things do change, but I think at the same time it brings a lot of benefits like talking to bowlers, working out plans, obviously being in their shoes a lot of the time, in the pressure moments."
Despite Messi early exit, Miami put four past Toronto
Details
FORT LAUDERDALE, United States, Sept 21, 2023 (BSS/AFP) - Inter Miami shrugged off an injury concern to Lionel Messi to boost their Major League Soccer playoff hopes with a a 4-0 thrashing of Toronto FC 4-0 on Wednesday.
Messi returned to the starting line-up after skipping Saturday's 5-2 defeat at Atlanta due to muscle fatigue but left the field in the 38th minute looking uncomfortable.
His former Barcelona team-mate, Spaniard Jordi Alba who had also sat out the trip to Atlanta, also limped off three minutes earlier in the game.
Miami coach Gerardo Martino said the pair are now ruled out for Sunday's Florida derby with Orlando City and was uncertain about their involvement in next week's US Open Cup final.
"We have to go day by day, see the doctor's report, what they tell us and we will decide. Obviously, there is no 'chance' that they will be there on Sunday," he said.
"I don't think it's anything new or bigger than what they had been having. It's just fatigue, I don't think there is a muscular injury," he said, defending the decision to play them.
"Everything was in place for the players to play ... There is no possibility (that they were pressured to play). If we made them play it was because they were fit to play"
"After talking to them, I don't have the same pessimism I had when I had to take them out," he said.
Despite the blow of losing their star and one of their most influential players, Miami swept aside the Eastern Conference's bottom club with ease, Messi's replacement Robert Taylor scoring twice after coming on.
Facundo Farias opened the scoring on the stroke of half-time with a blistering volley after Toronto keeper Tomas Romero had meekly palmed out a Noah Allen cross.
- 'Collective mentality' -
Taylor then made it 2-0 in the 54th minute with an outstanding individual strike, dribbling across the box from the left before unleashing a sharply angled drive back into the bottom corner.
Taylor then turned provider, releasing another substitute Benjamin Cremaschi who fired through the legs of Romero to make it 3-0.
Finland international Taylor completed his impactful performance with the fourth, bringing down a floated pass over the top from Farias and blasting home from close range.
The performance of Taylor, Cremaschi and other substitutes will give Miami confidence that they can maintain a push towards the post-season, even if Messi and Alba may need more time to get back to fitness.
"It shows guys are willing to step up, shows the depth we have on our team, and the collective mentality we approach each game with," said goalkeeper Drake Callender.
Miami, who travel to Orlando on Sunday, move up to 13th in the Eastern Conference and are now just five points off Wayne Rooney's D.C. United who occupy ninth spot, the final playoff position. Miami have two games in hand.
D.C United were held to a 1-1 draw at home to Atlanta while other results were also favourable for Miami.
Charlotte, who Miami have to play twice, are now just two points ahead of the Florida side after they let a two-goal lead slip in a 2-2 draw at home to Philadelphia, conceding a stoppage time penalty which was converted by Daniel Gazdag.
The draw guaranteed Philadelphia a place in the playoffs.
The Columbus Crew also secured their place in the playoffs beating the Chicago Fire 3-0 with Colombian Cucho Hernandez scoring all three inside 23 minutes -- the second fastest hattrick from the start in MLS history.
Tenth placed New York City kept their playoff hopes alive with a 2-0 win at home to second placed Orlando City. Despite the defeat Orlando are now sure of a place in the post-season.
Eastern Conference leaders Cincinnati needed a goal deep in stoppage time from Argentina Luciano Acosta to earn a point at eighth placed Montreal.
In the Western Conference, leaders St.Louis City were held to a goalless draw at home to champions Los Angeles FC.
Mahinur Jahid Memorial Soccer held in Edmonton
Details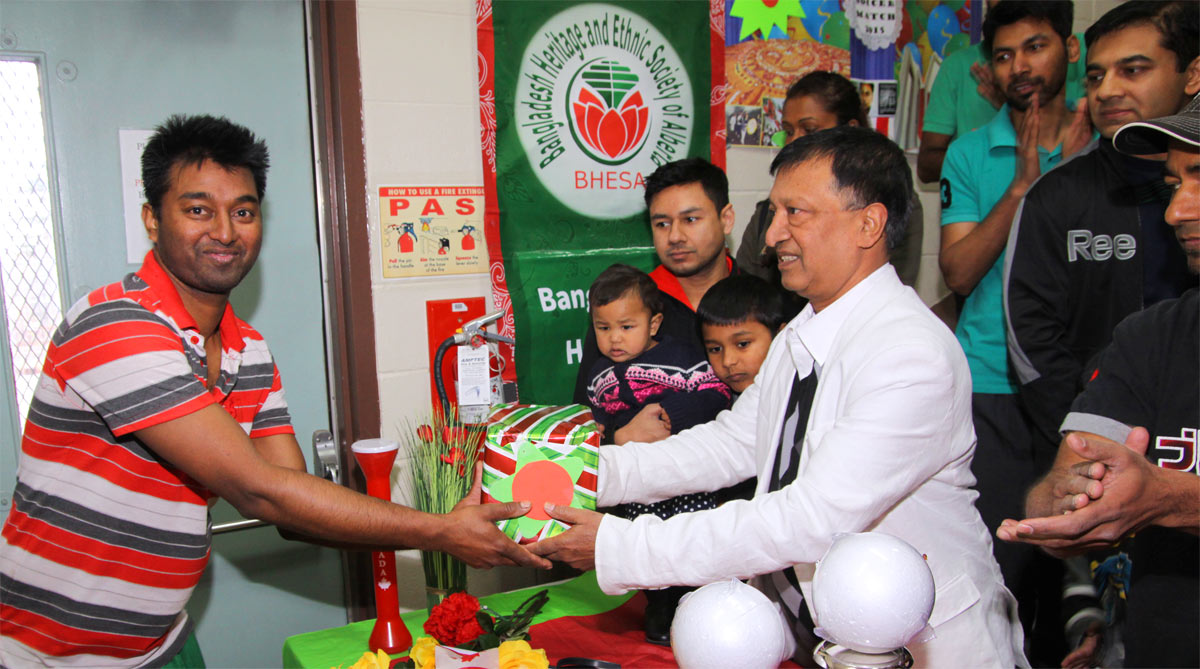 Edmonton, Canada (April 12, 2015): Mahinur Jahid Memorial Soccer Match was held at the premises of  Alex Taylor School (E4C) in the Edmonton City of Canada on Sunday, the 12th of April, 2015 . Edmonton Lathials (Tanvir, Khademul, Masud, Shan) takes home the championship title while Edmonton Jomidars (Rusel, Rocky, Tajul, Mizan) group become Runners-up and other Edmonton Jodhas group players were Roney, Anis, Robin, Sabree, Mirza Bashir and Nigar.Prior to inauguration, Ahsan Ullah introduced all the players to the chief guest Delwar Jahid, President of Bangladesh PressClub of Alberta.