Requirements not met
Your browser does not meet the minimum requirements of this website. Though you can continue browsing, some features may not be available to you.

Browser unsupported
Please note that our site has been optimized for a modern browser environment. You are using »an unsupported or outdated software«. We recommend that you perform a free upgrade to any of the following alternatives:
Using a browser that does not meet the minimum requirements for this site will likely cause portions of the site not to function properly.
Actors union explains AI guardrails in strike deal
Details
LOS ANGELES, Nov 11, 2023 (BSS/AFP) - From computer-generated "extras" to AI "zombies," new restrictions against the use of artificial intelligence in Hollywood were set out by the actors' union Friday.
   The Screen Actors Guild (SAG-AFTRA) reached a deal with studios like Disney and Netflix this week to end its nearly four-month strike. Its board members on Friday voted 86 percent in favor of ratifying the agreement.
   Besides a seven percent minimum pay increase, and a new $40-million-per-year fund to transfer a portion of revenues for hit shows from studios to actors, AI guardrails were a key part of talks.
   The deal "allows the industry to go forward -- it does not block AI," SAG-AFTRA negotiator Duncan Crabtree-Ireland told a press conference.
   "But it makes sure that performers are protected. Their rights to consent are protected. Their rights to fair compensation and their rights to employment are protected."
   Studios have been experimenting with AI in recent years, from bringing deceased movie stars back using realistic "digital replicas," to using computer-generated background figures to reduce the number of actors needed for battle scenes. Many cost-cutting producers want a growing role for AI, and have begun requiring some performers to take part in high-tech 3D "body scans" on set, often without explaining how or when the images will be used.
    But now, an actor must be paid the same rate for any use of their digital replica as they would have earned doing the same "amount of work" on set themselves in real life, Crabtree-Ireland said.
    Amid fears that background workers -- or "extras" -- could be the first to lose their jobs to AI, strict curbs have been put in place.
   "No use of a digital replica can be used to evade engagement and payment of a background actor under this contract," he said.
   Studios must gain consent from an actor -- or their estate -- every time their digital replica is used in any film or TV episode.
   They cannot present actors with boilerplate contracts entitling them to use a replica in perpetuity, but must instead provide a "reasonably specific description" of how it will be used each time.
   - 'Zombies' -
   AI technology is advancing at breakneck speed, but has never previously been part of the discussions when SAG-AFTRA renegotiates its contract with studios roughly every three years.
   SAG-AFTRA president Fran Drescher said it was vital to nail down rules this time, because "in the world of AI, three months is equivalent to a year."
    "So if we didn't get those barricades. What would it be in three years?... It would be so far out of our grasp, we would always be chasing something, but never quite get it."
   The very final, contentious detail to be thrashed out with studios on Tuesday night concerned use of AI to create "synthetic fake performers."
    Referred to by Variety as "zombies," or "digital Frankensteins," these are constructed using the various body parts of different real actors.
   "If you're using Brad Pitt's smile and Jennifer Aniston's eyes, both would have a right of consent," Crabtree-Ireland told the trade website.
   He elaborated at Friday's press conference, explaining that studios are now required to obtain permission from every actor whose features are used.
   They also have to inform SAG-AFTRA each time a "synthetic fake performer" is created. The union will have the right to bargain for compensation on behalf of the actors involved.
   - 'Deal breaker' -
   Drescher said AI was a "deal breaker" in the talks, and that the guardrails will not just help actors, but many other entertainment industry professions down the line.
   "In a synthetic world, you don't need hair and makeup people. You don't need drivers. You don't need set builders," she said.
   "And so for us to keep holding out for the best AI package that we could get was also going to spill over into what their futures were going to look like."
   Crabtree-Ireland urged politicians to do more to "make AI protections a priority."
   "Our members will be advocating for legislative efforts and will remain actively involved in the movement to protect all individuals' rights to their likeness," he said.
Picasso masterpiece to fetch $120 mn in November auction: Sotheby's
Details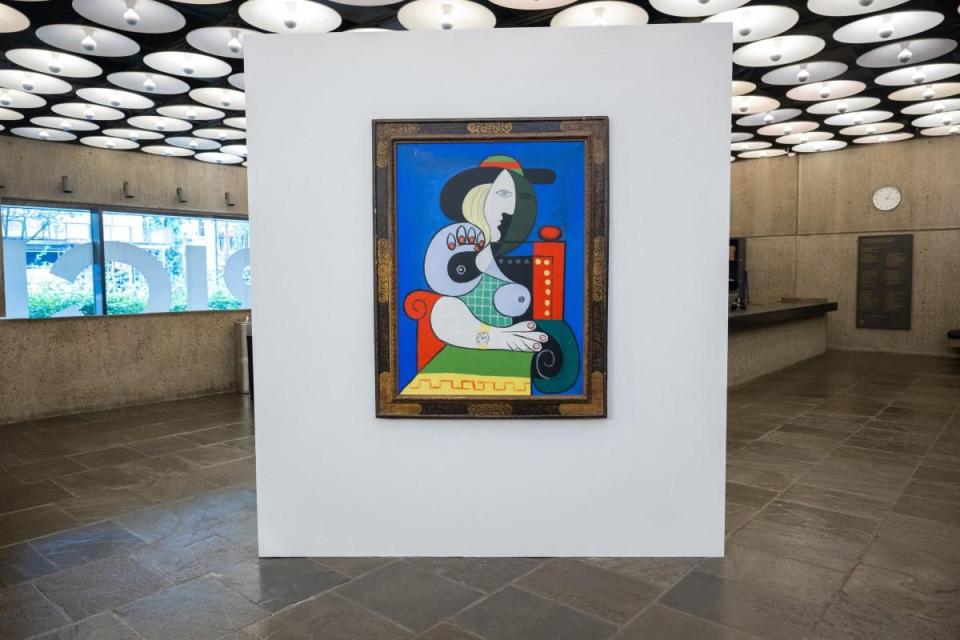 NEW YORK, Sept 14, 2023 (BSS/AFP) - The November auction of a Pablo Picasso masterpiece, the late Spanish painter's "Femme a la montre" from 1932, is expected to fetch at least $120 million, Sotheby's announced Wednesday.
The painting, which depicts Picasso's mistress wearing a watch, will be sold as part of a two-day auction of late New Yorker Emily Fisher Landau's prestigious collection.
Other works up for sale include pieces by Jasper Johns, Willem de Kooning, Mark Rothko and Andy Warhol.
Fisher Landau, a longtime board member of the Whitney Museum of American Art in New York and a renowned art patron and collector, passed away in March at age 102.
Sotheby's said in a statement that around 120 pieces from her collection would be for sale and "estimated to bring well over $400 million" in total, with "Femme a la montre" making up a significant portion.
Julian Dawes, head of the Sotheby's Impressionist and Modern Art division, called the Picasso painting "a masterpiece by every measure."
"It is full of joyful, passionate abandon yet at the same time it is utterly considered and resolved," said Dawes, noting its creation in 1932 was part of Picasso's "annus mirabilis," or miracle year.
The year 1932 was so important in Picasso's work that an entire exhibition was devoted to it in 2018 at London's Tate Modern museum.
Marie-Therese Walter (1909-1977) was Picasso's "golden muse" who would go on to be featured in "many of his most accomplished portraits," Sotheby's said.
The lovers met in Paris in 1927, when the Spaniard was still married to Russian-Ukrainian ballet dancer Olga Khokhlova, and while Walter was 17.
Walter, whose daughter with Picasso passed away last year, was also featured in "Femme assise pres d'une fenetre (Marie-Therese)," which sold in 2021 for $103.4 million by Christie's auction house.
Fifty years after his death in 1973 at age 91, Picasso remains one of the most influential artists of the modern world, often hailed as a dynamic and creative genius.
But in the wake of the #Metoo movement, the reputation of this workaholic with a vast output of paintings, sketches and sculpture has been tarnished by accusations he exerted a violent hold over the women who shared his life and inspired his art.
All eyes on Gucci as Milan Fashion Week opens
Details
MILAN, Sept 20, 2023 (BSS/AFP) - The top names in Italian fashion are showcasing their work at Milan Fashion Week starting Wednesday, with expectations high for the first Gucci collection under its new creative director.
Almost 70 catwalk shows are scheduled over six days in the northern Italian city, with Fendi, Prada, Versace, Dolce & Gabbana, Bottega Veneta and Giorgio Armani among those showing their spring-summer 2024 collections.
The hottest ticket in town is Friday's Gucci show, the first under new artistic director Sabato De Sarno.
The Italian, who previously supervised the men's and women's collections at Valentino, was named in January to replace star designer Alessandro Michele.
The legendary brand, owned by French luxury group Kering, has also seen the departure of long-time chief executive Marco Bizzarri this year as it grapples with stagnating sales.
There are other new faces this week, with Tom Ford making its Milan debut under the leadership of Peter Hawkings and Simone Bellotti's first collection as design director at Bally.
 
Off the catwalk, 76 presentations and 33 events are planned, including Moschino's 40th birthday celebrations.

Moncler, known for its puffer jackets, is presenting Wednesday its new collection in collaboration with musician turned designer Pharrell Williams, who made his debut for Louis Vuitton in Paris in June.
And Diesel is repeating an initiative trialled with success last year, with a show Wednesday to which ordinary members of the public were able to obtain tickets.
According to data from Italy's national fashion chamber, industry sales were up seven percent over the first six months of 2023.
"We estimate annual sales to increase by 4.5 percent compared to 2022, at more than 103 billion euros ($110 billion)," said chamber president Carlo Capasa.
Exports are forecast to be up six percent over the year. Between January and May, exports to China and Japan were up more than 18 percent.
Matteo Zoppas, head of Italy's trade and investment agency, said the "Made in Italy" brand remained strong.
"Compared to general growth in Italian exports of 4.8 percent in the first five months of 2023, fashion exports rose 7.4 percent in the same period -- and female fashion was up 11.4 percent," he said in a statement.