Edmonton, Alberta (May 1, 2014) In the City of Edmonton at University of MacEwan Bangladesh Press Club Centre of Alberta (BPCA)'s inaugural meeting was held with enthusiasm.
Chaired by newly elected president of the PressClub and editor of Samajkantha Delwar Jahid, while Hon. Matt Jeneroux, MLA for Edmonton-Southwest was present as chief guest and the main speaker was International and Heritage Languages Association Representative Mr.Oleg Bogatyrevich.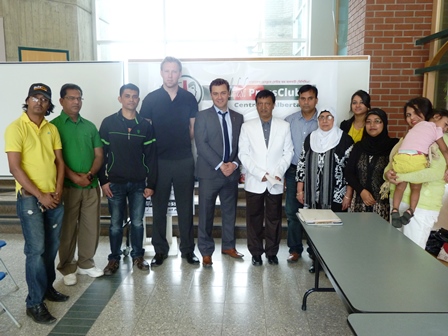 MLA Matt Jeneroux said, This First of May is very important for press freedom and for the journey of Bangladesh PressClub Centre of Alberta and I will support its future plan and activities.
Oleg Bogatyrevich said Canada is a multiligual and multicultural country where lives many communities with their language and culture. It's an important step to establish Bangladesh PressClub Centre.
University ofMacEwan Students Association's Director Finance and operation Abu Kousar Khondokar, representative of the club Syfur Hasan, Riya Kiran, Rayhana Zaman, Nurul Huda and Andy Strohkirch were present.
In president speech Delwar Jahid expressed his profound shock on the death of eminent journalist of ABM Musa of Bangladesh. He categorically mentioned the brutal killings of Sagor-Runi and other journalists in Bangladesh and demand immediate and impartial inquiry of all the murders and extra judicial killings and to bring the criminals to justice. He also demanded to strengthen the press council of Bangladesh and to withdraw all the motivated cases against journalists.
Expressing solidarity with the program dignitaries sent their wishes, they are:
MLA Sohail Quadri, Mrs. Janice Sarich, MLA (Edmonton-Decore), Ken Lemke MLA.